Organizing Committee:
Logan Hoehn, Alexandre Karassev, Ihor Stasyuk, Murat Tuncali, Vesko Valov
The workshop is the 11th in the sequence of annual workshops traditionally held in the month of May at Nipissing University. This year, the main themes will be continuum theory, dynamical systems, large-scale and geometric topology.
Confirmed speakers
Nikolay Brodskiy (U. of Tennessee)
Jerzy Dydak (U. Tennessee)
John Mayer (U. of Alabama)
Frank Sturm (Auburn U.)
Ed Tymchatyn (U. of Saskatchewan)
Ziga Virk (U. of Ljubljana)
To book a room in one of the University Residences, please fill out the reservation form.
The main workshop accommodation is the Nipissing University residence Governors House. The residences are in apartment style. Each apartment has four single bedrooms, each with single bed, dresser, desk and closet. The kitchen/dining area is equipped with a fridge and stove. Each apartment has two bathrooms with showers. Bed linens, towels, face cloth and soap are provided. We recommend that you bring your own shampoo, hair dryer, and alarm clock. All units are air conditioned. The residence building has a coin-operated laundry on each floor, pay phones and a lounge area with TV. There are a limited number of special needs rooms available. Internet access is available throughout the building without any log-in id and password requirement.


Parking

is free at the Governors House. If you are driving to the main building, park at Lot 1 (see the Campus map, Lot 1 is the largest in the group of three lots off of South Access Road). Parking is free but restricted to Lot 1. After parking your car, walk towards the main building with the Nipissing University sign.
There are a number of hotels, cottages, and other types of accommodation in and around North Bay. We refer you to this page for further information. The hotel closest to the campus is:
Hampton Inn by Hilton
950 McKeown Ave, North Bay, ON P1B 9P3
1-800-HAMPTON (426-7866)
You can also contact Michelle Walker, manager of Conference Services. The contact information is below.
Michelle Walker
Manager, Conference Services
Nipissing University
100 College Drive, Box 5002
North Bay, ON
P1B 8L7
tel: (705) 474-3450, ext. 2900
fax: (705) 474-4888
michellw@nipissingu.ca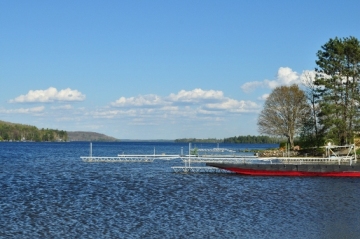 How to get here
By Air: Less than 10 minutes from Nipissing University, North Bay's
Jack Garland Airport is a thoroughly modern facility with daily flights from Toronto and Ottawa.
By Bus: There are regular bus routes from Toronto and Ottawa to North Bay, operated by several carriers. There is a bus which departures directly from Toronto Pearson Airport to North Bay. It is operated by Northern Airport Services. It takes approximately 4 hours to get to North Bay. Reservation is required in order to get on the bus. To make a reservation or find more information please call 1-705-474-7942 or 1-800-461-4219
By Car: North Bay lies on the intersection of two major highways. It takes about 3-hour drive to get here from Toronto (Highway 11, 340 km) and from Ottawa (Highway 17, 370 km).
The links below will help you to find more information about:
Campus map
Map of the campus walking trails
Recommendations for extending your trip to North Bay
, from Ontario's Near North
Information for Visitors and Local Attractions